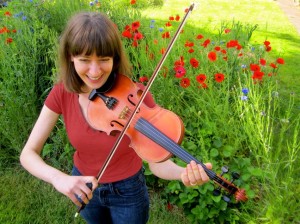 I am a classically trained violinist with a love for many musical genres and styles. I began learning the piano at the age of six, and the violin at eight. My teachers of both instruments used the Suzuki approach, and I benefitted from its fantastic repertoire and focus on ear training, group learning, and parental involvement throughout my musical education.
I taught my first violin lesson at the age of sixteen, and the same year began delving into the intriguing, powerful sounds of Eastern European and American Old Time music. Since then I have toured and recorded with a number of old time, country and folk bands, and taught fiddle workshops at many music festivals and camps. I have co-taught the popular Portland String Band Class with Maggie and Patrick Lind since 2006, and continue to teach private violin and fiddle lessons at my home in NE Portland. I have studied Suzuki pedagogy with Edmund Sprunger and Joseph Kaminsky, and am registered with the Suzuki Association of the Americas.
My approach to teaching is warm and supportive, yet firm. I believe playing music can be a source of joy for any person, and I want to help my students realize their full potential as creative and skilled musicians.